The Nanaba App: Everything You Need to Know
As a parent, you want to make sure that you are giving your child the best opportunities for success. One way to do this is to use the Nanaba app. Nanaba is an app that helps children learn and develop their skills. In this blog post, we will discuss what Nanaba is, how it can help your child, and some of its key features. We hope that this information will help you decide if Nanaba is right for your family.
What is Nanaba and what does it do?
Nanaba is a French startup that has developed an app to force children to do their homework before they can go on social networks. The app allows you to block access to Snapchat, TikTok, Instagram and other popular social media platforms.
The Nanaba app is aimed at children aged 6 to 14. It offers a program that adapts to the level of each child to offer them an adapted experience. Subjects such as history, geography, French, science, math or more generally general culture are discussed.
Nanaba has already gained a following in France, Switzerland, Luxembourg and Belgium and the company is now working on expanding its user base in other countries.
How to Use Nanaba
Nanaba's comprehensive visual and audio features present quite accurate information on many different subjects within the French curriculum. Where this app will really appeal to users (often parents, specifically) is that it can be set up to lock off popular apps, including Facebook, Tik Tok, Instagram, Snapchat, Fortnite, etc.
Nanaba seeks to reorient priority areas by advocating a more balanced and productive use of technology. In order to access or unlock these types of popular social media apps, users will need to answer a series of parent-specified quiz questions.
No teaching or instruction exists per se. The application merely utilizes repetition questioning to evaluate student comprehension and learning.
Parents choose the correct subscription plan for the child(ren)'s needs and enroll them. Once subscribed, they will be encouraged to add children, including the title or category appropriate to their levels. Students can then choose the sub-topics to answer. These particular sub-topics within these major topics contain quizzes that are known as fifteen-question multiple choice series as well as three-question versions. The quizzes have been developed and created by teachers with experience in the National Curriculum in France.
How can Nanaba help parents control their kids' screen time?
Nanaba is designed to help parents find a balance between their children's screen time and their studies. The app works by blocking access to social media platforms until the child has completed a certain amount of homework.
The Nanaba app, for example, requires children to complete a 15-question quiz or a 1-minute test in order to watch videos again on their smartphone or tablet.
At first, the parent registers and logs right into a profile relating to their child(ren) subscriptions. Afterwards, the parent creates a profile with their child(ren) s and assigns the appropriate curriculum, content and or topics.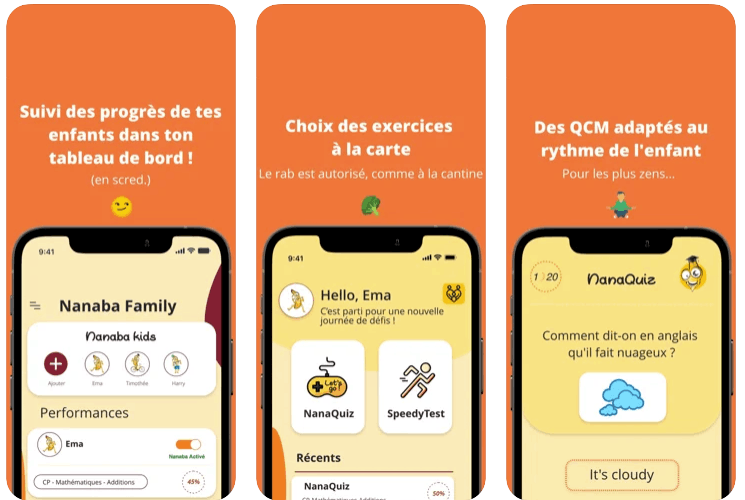 Is Nanaba available for Android and iOS devices?
The Nanaba app is a subscription-based service and is available for both Android and iOS devices.
What are some of the key features of Nanaba that make it stand out from other educational apps on the market today?
There are a growing number of educational apps on the market, but Nanaba is quickly becoming one of the most popular. What makes it so special? Below are some of the unique features that make it stand out:
Nanaba is a high-quality app that offers beautiful lessons based on various elements from the French curriculum, and it has features that allow parents to add certain apps to lock over.
This app's presentation is among the best you will find on any tablet or smartphone device.
Nanaba can be set up to block competing apps, for example, Facebook, Instagram, Snapchat, TikTok, Fortnite, etc.
Rather than forcefully limiting children's technological screen time, Nanaba aims to promote a balanced and productive deployment of popular social media apps. In order to access or unlock these applications, users will have to respond to a series of parent-selected quizzes.
There is no pre-established curriculum or instruction per se; the app simply uses repeated questioning to teach children.
How much does Nanaba cost?
Prices for the app range from 36 euros to 108 euros per year, depending on the level of service you require.
Is Nanaba available in other languages besides French?
The app is currently only available in French,German, English, Luxembourgish, and Dutch but the company plans to roll out versions in other languages soon.
Is Nanaba App Worth Your Money?
If you're looking for an educational app for your kids that will help them learn and develop their skills, Nanaba is definitely worth checking out. The app offers a variety of features that make it stand out from other apps on the market, and it's also very affordable. If you're not sure if Nanaba is right for your family
Unfortunately, the app also has some disadvantages as follows:
It can sometimes be difficult to navigate the app. There are several menus and options that need to be opened and closed in order to get where you want to go, and it can take a while for your kids to get used to this.
The app is currently available only to France, Switzerland, Luxembourg and Belgium.
There is no way to parent-monitor what your kids are doing, so if they are getting into something that you don't approve of, you won't be able to catch them.
Overall, the app offers a lot of great features and benefits for your kids.
SmartCookie: A Better Alternative
SmartCookie is a parental device controller that helps parents monitor their child's screen time, while helping them to access educational content. With SmartCookie, children can unlock their devices and get screen time by completing educational content within it. As a result, parents are able to manage how much time their kids spent on devices. SmartCookie supports a number of different activities, including reading, solving math problems, and spelling.
Additionally, the app also allows parents to set time limits on their kids' device usage. With SmartCookie. App, parents can set the time limits on the app to monitor their children usage and prevent them from overusing it. It also provides an option for users to turn off the in-app purchases.