ParentsKit Gratis Parental Control Review
If you are worried about the safety of your children and want to keep a check on their online activities, there are various ways in which you can do so. You can either use an app or monitor their social media accounts. But if you want more control over your child's device, then ParentsKit Gratis Parental Control would help you achieve this goal without any hassle. However, just like other parental control apps, it also comes with downsides.
Features of ParentsKit
ParentsKit parental control app is a great way to monitor your kid's online and offline activities without them knowing. It's a parental control app with its own system that will let you monitor your child's device usage without the need to download an app on their device. You can track their online and offline activities even if they have blocked your number.
The app is available on Google Play and Apple Store starting at $7.9 for one number monthly and it comes with the following features:
Monitor your child's phone usage.
Monitor your child's device usage by tracking their screen time and app usage.
View all the incoming and outgoing calls.
View all the photos & videos on their device including those that have been deleted.
View their contacts, call history and more.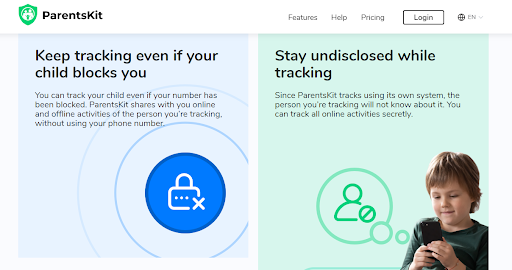 Note though that the Android version was already defunct.
Pricing
ParentsKit prices start at $7.9 but may vary by country. For iOS device users, your iTunes account will be charged when you purchase a subscription package. Subscriptions are renewed by weekly, monthly, or yearly depending on the selected payment plan. You can cancel your subscription renewal at any time from your iTunes account settings.
Data Privacy
The app will only show you data on verified phone numbers. A one-time password will be sent to the phone number you would like to track, and you will be asked to grant access to that number.
Pros
ParentsKit is a parental control app that allows parents to monitor their children's online activity
Some of the key benefits of using ParentsKit include:
Easily monitoring your child's online activity;
Receiving real-time updates about your child's online activities
Cons
ParentsKit is a parental control app that is marketed to parents as a way to keep their children safe. However, many parents have found that the app is not working as promised.
ParentsKit is difficult to use and requires a lot of manual adjustments in order to be effective. Many parents have reported that the app does not work at all, even after spending hours trying to make it work properly.
One major problem with ParentsKit is that it requires constant updates in order to function properly. If updates are not installed or done correctly, the app will not work at all.
Another issue with ParentsKit is that it is often slow and difficult to use. This can make it frustrating for parents who are looking for an effective way to monitor their children's online activity.
Smartcookie - A Good Alternative
With the number of screens our kids are spending every day, it's more important than ever to make sure they're getting the most out of their time. One way to do that is by using an app like SmartCookie.
This parental control app lets you set limits on how much screen time your kids can spend each day, and also sets reminders to help keep them on track. Plus, it has a built-in timer so you can see exactly how much time each child is spending on their devices.
Whether you're looking for a basic screen time management tool or something more advanced, SmartCookie is a good alternative to ParentsKit.